We've blogged about US brand Skip Hop before, their changing bag has been a lifesaver with its many pockets and storage solutions. Now we're moving into potty training we no longer need a huge bag anymore and Joss is becoming independent and wants to carry her own bits and bobs when we're out and about.
Skip Hop Zoo-Let
The Skip Hop Zoo-Let is a mini backpack suitable for children aged 12 months+ and is the perfect step up from our changing bag now we're carrying smaller items and no nappies.
I like to give gifts that are a bit different to the usual toys; something for outdoors is always appreciated by parents and tots alike. This backpack featured in our
Christmas Gift Guide
as a brilliant present for an outdoorsy, independent tot, the bee and owl designs are cute too, but this smiley ladybird is perfect for my little bug – judging by Joss' delight at receiving this from Maguari (who distribute Skip Hop) as a review item the lucky Christmas recipient is sure to be impressed too!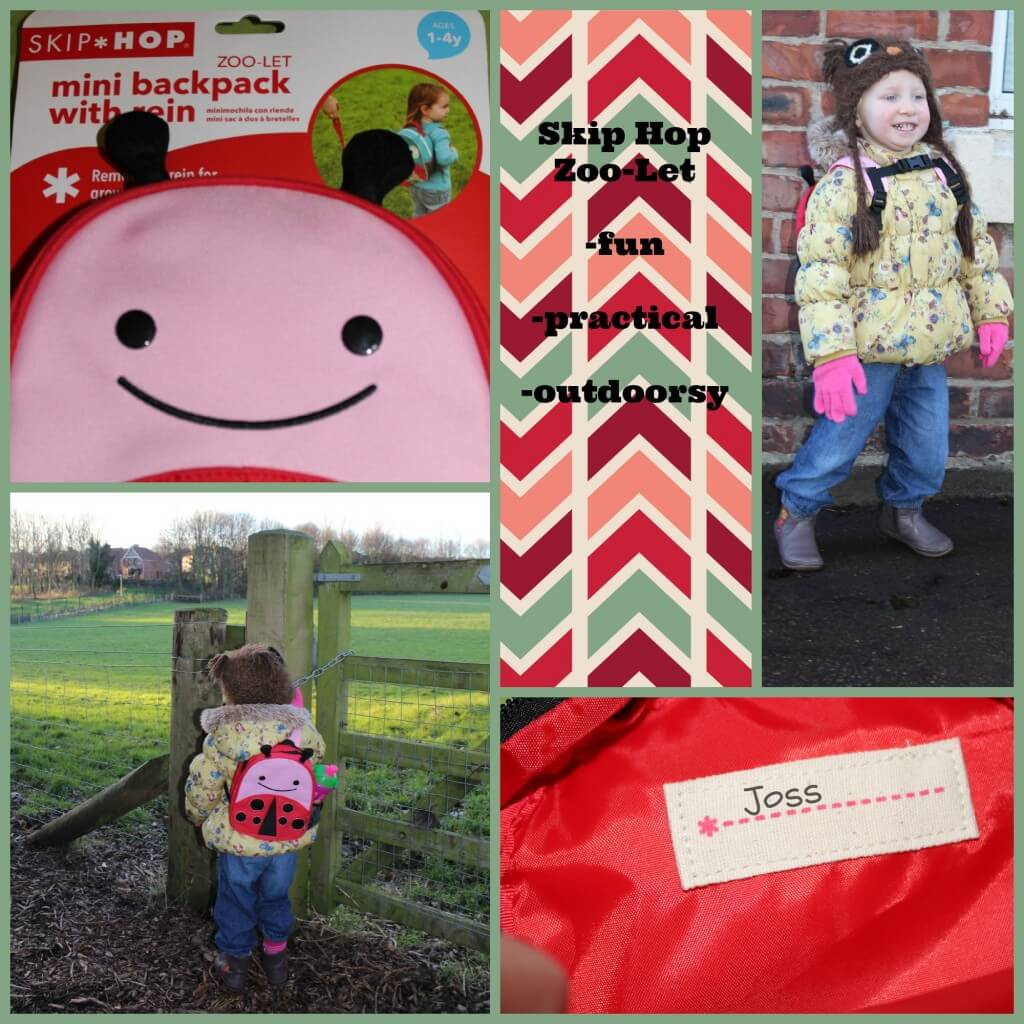 It is perfect for her small frame, spacious and comes with detachable reins which we're not needing to use at the moment but as we move away from hand holding it's an option we are likely to opt for to keep her close by when we're talking about road safety. I like that the reins tuck into the pocket of the bag when they're not in use to keep them somewhere safe and out of the way!
Featuring Skip Hop's usual friendly faces this ladybird design is so cute! The handy name tag inside is great for identifying the bag as hers when she's away from home, the handle on top is perfect for hanging this on the buggy when she needs a rest and the mesh drinks pocket is just the right size for her water bottle and saves us digging about inside for a drink!
I'm really impressed with the quality of this bag, it's really robust and sturdy in a thick fabric that's BPA and phtalate free; at £18.99 rrp it's about what I'd expect to pay for a backpack with reins and is a really high quality item that will grow with Joss (it's aged up to 4 years old). I only have a small comment on the sizing, all round it's a great size for a tot, but when J is wearing her winter coat the straps on the front fastening could be a fraction longer to give her more wear out of it (this is said with a caveat as J's coat is sooo chunky!)