I love the idea of a Christmas stocking, little bits and bobs to keep the kids busy or little treats for adults; but it's not easy choosing these tiny treasures without the price mounting up. I also like unusual stocking fillers and novelties but don't have loads of time to get out and look for them in addition to the usual gift buying!
Enter http://www.stocking-fillers.co.uk/ with their huge range of stocking stuffers!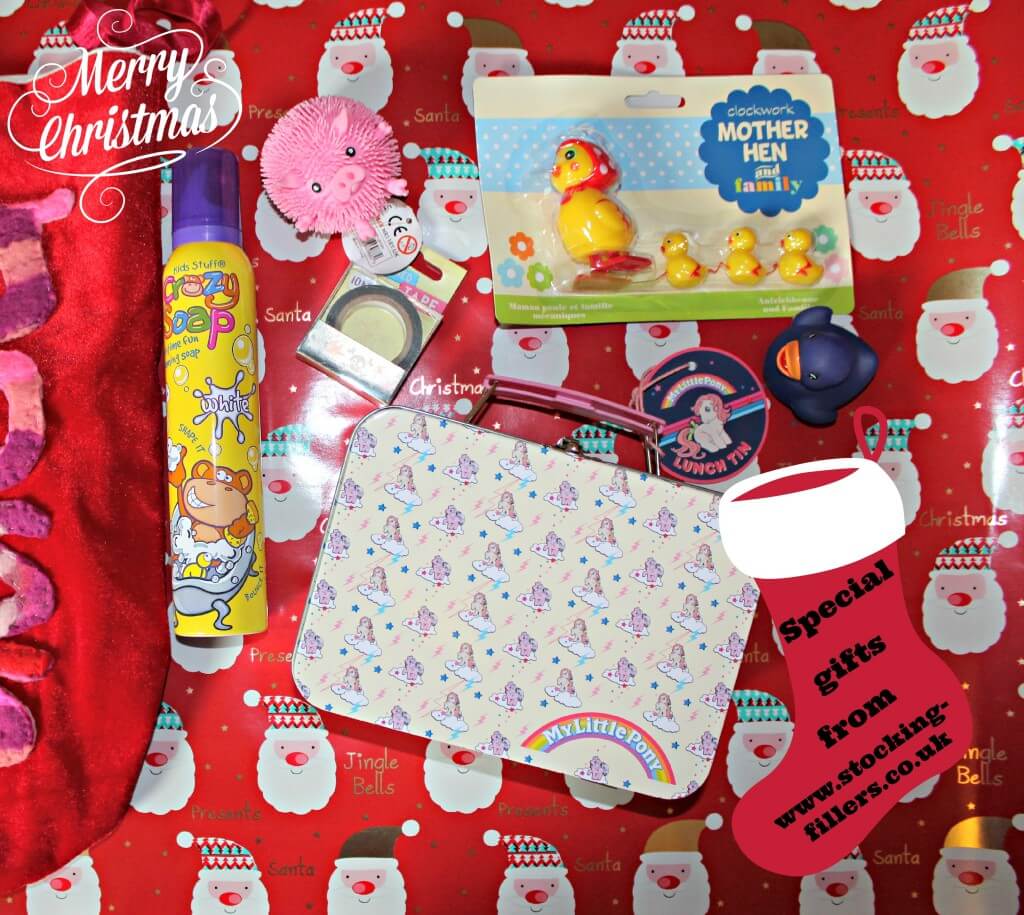 They do a brilliant range of deals on mix and match gifts so you can pick up ten items in a selection for £20 for example and there's a huge selection of novelties under 3 quid too, a bargain!
I made a small selection for review purposes and this is the stash I was sent; perfect for keeping an inquisitive toddler busy!
I'm going to use the My Little Pony lunch tin for her Christmas Eve pajamas, I love the retro print and would quite like one for my own packed lunches! It's the perfect size for sandwiches and fruit for days out and has a sturdy plastic and metal carry handle, essential for my rambunctious tot!
The rubber duck is a little thing I know she'll love for bathtime as she was admiring one at our friend's house, she wanted to take their duck home as she somehow doesn't yet own her own little bathtime duckie – this is a colour changing one, surprise! The walking wind up hens are a sweet novelty too, something to keep her occupied during Christmas lunch perhaps!
I love the squirty crazy soap and was pleased to finally find a stockist for this; it's mouldable and really fun to play with, we use it at toddler sensory group and all the kids get together and squish it into snowman shapes; she loves it, so it's a good addition to our sensory box at home.
The pink pig is a Puffimal, it's air filled and though it's a 5+ toy we'll play with this under supervision, it's just so tactile and again it will be great for soothing her during fractious times!
And finally something for me, patterned tape to help with the wrapping process, this one is skull and crossbones for an edgier Christmas but there's a huge choice of tapes on offer, you just need to buy more than one to get a choice, I guess I don't mind not having a choice as the price is so good and the range is so versatile.
Finally, the postage offered by stocking-fillers.co.uk is great value at £2.50 for standard orders which is cheaper than my bus fare into town too! I'm really pleased with the huge range and diversity of stocking fillers on offer, if you're looking for those final bits and bobs head over and treat your loved ones to some novelties!
Disclaimer: we were sent these products for review purposes, all views are my own