Isn't is lovely when a toddler dances without a care in the world, arms flailing, bouncing etc, even at 5am when you just want to sleep! Jossy came in with us in the early hours and by six thirty I was struggling to hold her back. Never ever give them your mobile phone people, ever, they are very clever these children, what unfolded this morning is testament to this.
Joss is talking away 'on the phone' "Lo?? Nanna? Toby? (our dog) Mammy? Finally…Daddy?" when I hear a real person's voice muffled, in my bed.
"Hello Central Taxis can I help you?"
Argh, she's made a call to an actual real person!
We both got such a fright that Joss burst into real sobbing tears and I hung up.
About ten seconds later I get a text, your taxi has been booked from Gateshead, this is an automated message. What the hell? How did she book a cab?!
I called them back, they laughed and said because I've booked from that number before it was just an automated response. I forgot all about it, ten minutes later I got another text, your taxi has been dispatched, your driver's name is Michael, car Silver Astra.
And then another, and then another, a total of 14 texts all picking up from various parts of the city, over the course of three hours, driver names Sandra, Clare, Arlen, Dave, Mark…!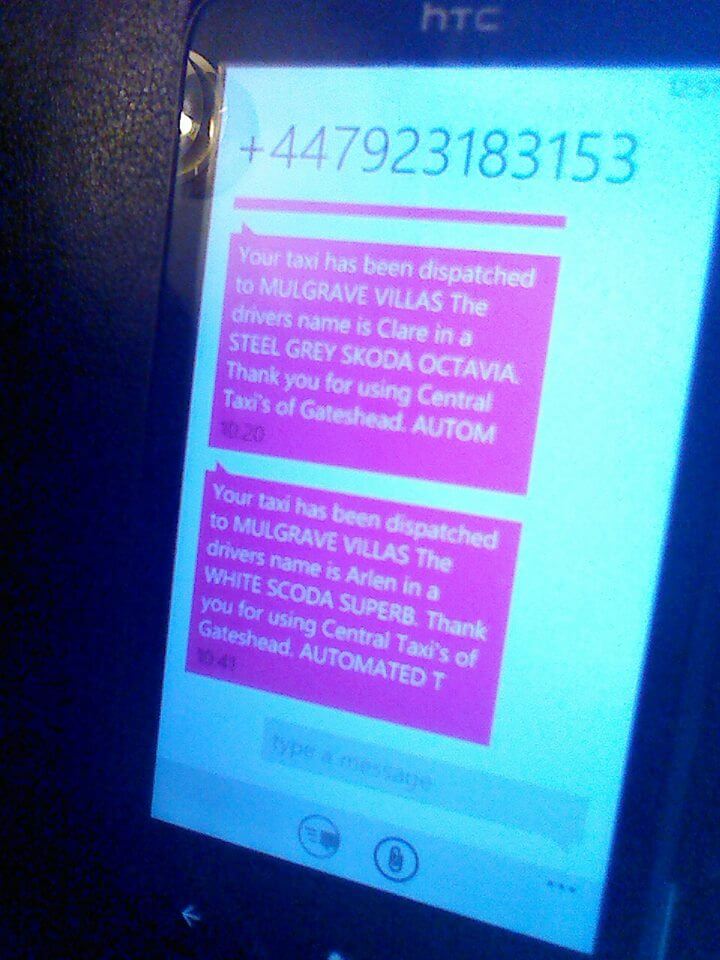 I called them again, they said no cabs had been dispatched thankfully, but since our call their systems had been a bit off, and that ladies and gents is how not to start your week, busting a large taxi firms booking system!