In the Syrian conflicts fifth year civil war continues to devastate children's lives, living in fear, being denied an education, hospitals destroyed and fleeing war. Refugee resettlement isn't a new issue, this hasn't somehow just reached fever pitch, the scenes in Calais and Hungary are simply the tip of the iceberg and the world can no longer avert its gaze.
Humanitarian Disaster
People didn't expect and many didn't like the picture of three year old Aylan Kurdi appearing on their newsfeeds, Aylan's tiny body was washed up on a beach in Turkey, this beautiful little boy the same age as my daughter, sadly his photograph is the one thing that has made people pay attention and so I won't apologise for sharing it. These are real people, real children, fleeing, it could have been my daughter, your son.
There are millions more children just like Aylan who need help; the refugee crisis isn't going to go away and I feel we have a moral obligation to join together and act accordingly. This is the worst humanitarian disaster of our time – The U.N. estimates that 7.6 million people are internally displaced. When you also consider refugees, more than half of the Syria's pre-war population of 23 million is in need of urgent humanitarian assistance, whether they still remain in the country or have escaped across the borders. As we have seen, the risks of the journey to the border can be as high as the risks of staying, imagine weighing this up for your children, what choice do you have, what chance do they have?
Do something
The groundswell of grassroots campaigning and organising that I have been following has heartened me (North East Solidarity with Calais Refugees for local readers but there are lots of other local groups springing up nationally), people organising collections of goods and clothing, tents and shelters, encouraging donations and organising protests, ordinary people who want to stand together and say yes, we see you, we hear you, we stand by you. People asked what real difference can we as individuals make, we can speak with one voice and say refugees are welcome, we can raise awareness and we can give our money, time and resources. When I was contacted by a group of bloggers who suggested we get together as use our blogs as a collective voice I thought this was another way I could be involved. I love how the blogging community gets behind a cause and each other and feel privileged to be part of this.
It could have been me
I am using my blog post to say 'it could have been me' and am making a donation to Save the Children as well as getting involved in local community activities.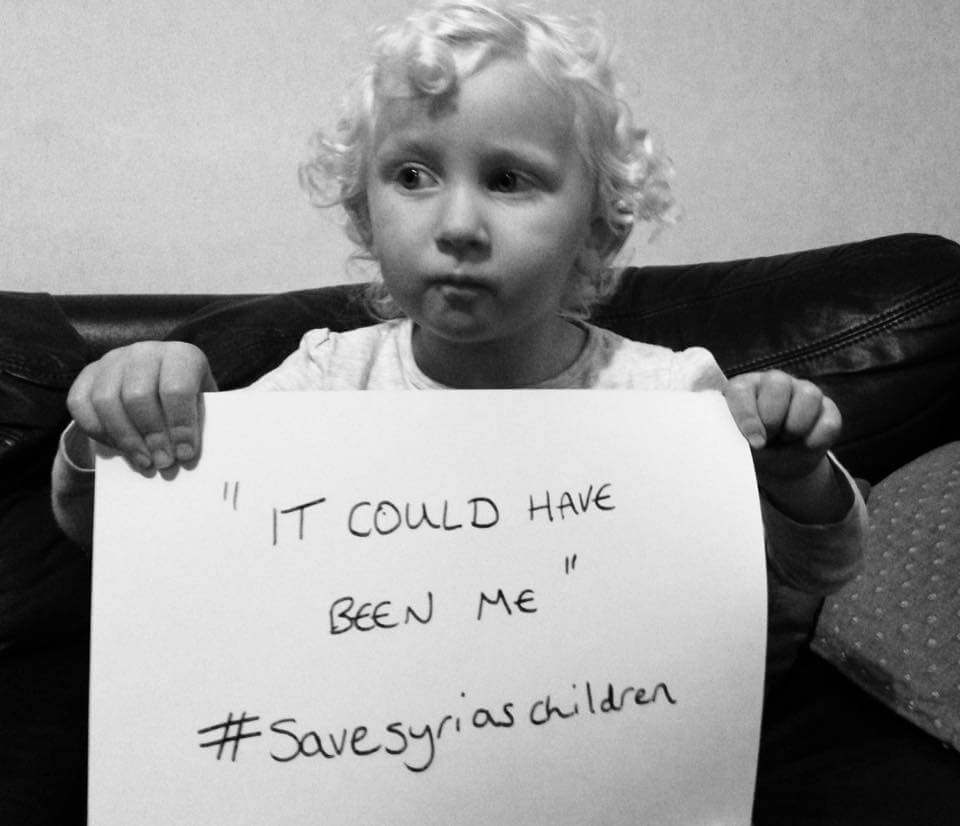 You can make a donation by TEXTING 70008 and the word SYRIA to donate £5 (see T&Cs) or you can make a web donation
There's lots that you could do from the comfort of your own home.
Please don't turn a blind eye.
Do Something to help.
Anything.
Whatever you decide, don't choose apathy
#savesyriaschildren