After five years in my current job I am moving on to pastures new, starting a new full time job working from home. This has its benefits in terms of my personal preference for homeworking, but also enables my lovely husband to drop some of his hours to have more daddy-daughter time which I've blogged about before, this is an important change for all of us, and a busy time too!
I haven't worked from home in the time since I became a parent, and space is at even more of a premium for my family, so I saw some challenges in creating a home office space that I think I have managed to meet happily.
Last time I worked from home my office was set up in our living room, but this is no longer practicable with a toddler around and all of the trappings of life with a small person, so this post is all about setting up a home office space that integrates with living in a small family home and uses smart solutions and technology for making the transition into home working.
Top Tips for creating a home office in your bedroom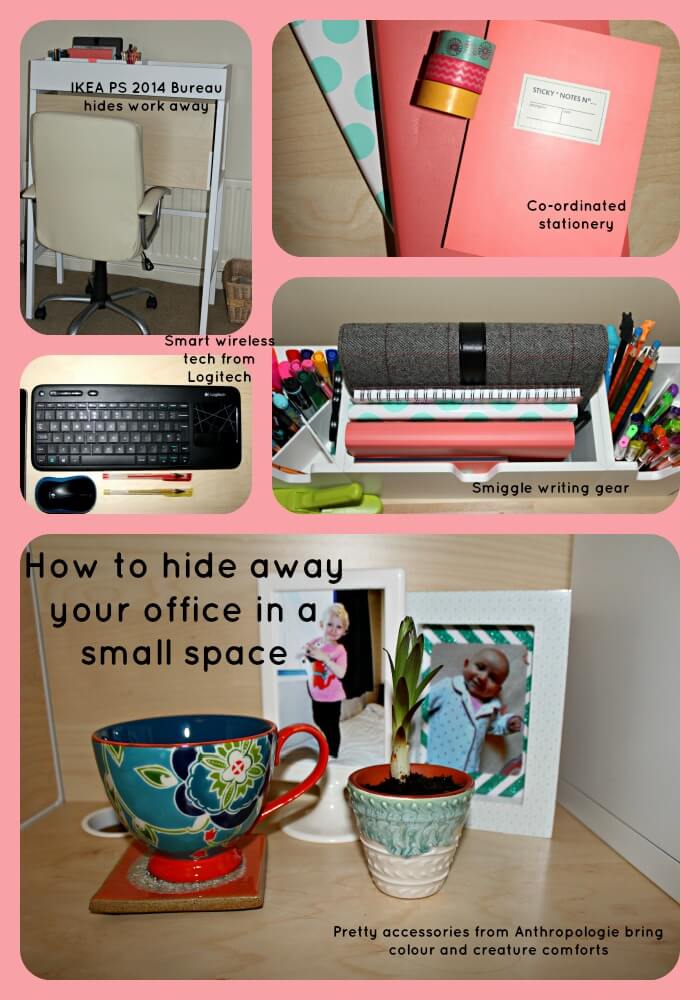 I'll precede all of this by saying that we live in a small flat, well, it's actually a large flat in some aspects, the rooms are light bright and spacious but storage space is lacking, and space for a desk even harder to accommodate!
Home office in a bedroom: planning
I decided to set up my home office from our master bedroom in the absence of a spare room. Creating a home office in your bedroom is actually pretty practical if you're clever about your use of the space. I have opted for a bureau setup with the IKEA Secretary desk from their PS 2014 range, complemented by office furniture and peripherals that make the space really work for me.
Opting for a laptop bureau means that I can pop my devices and paperwork inside the main body of the desk at the end of each day so that we reclaim the space as our bedroom and I can literally call time on the working day. The space up top acts as a handy store for all my stationery and keeps important papers and notebooks out of the way of my inquisitive toddler!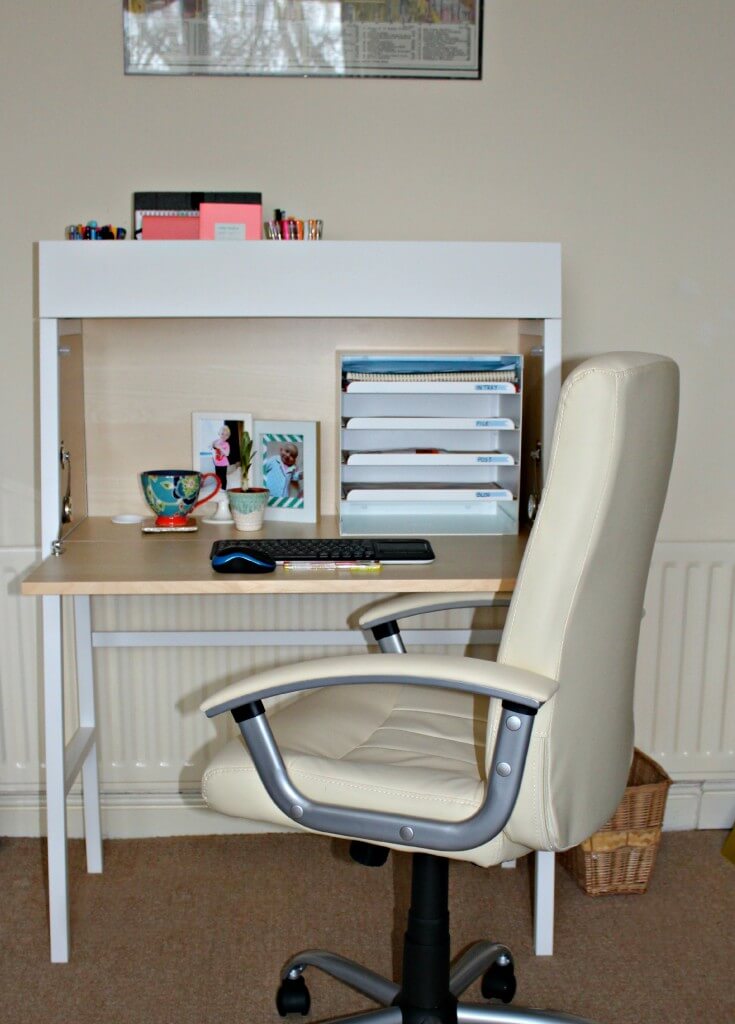 I thought about whether to make the space distinct or keep the colour scheme in line with our existing bedroom palette, I opted for the latter because it's a calm room and I didn't want bright and vibrant office ware to detract from the relaxed feel of the space. Hannah from Mumsdays has wrestled with such issues recently, and I love the palette she is looking at too, but her post really inspired me to look at what we already have and how we can complement this!
Top Tips for creating a home office in your bedroom: colour
So… I have gone for a soft, complementary and feminine palette to denote a separate work space that ties in nicely with the overall feel of the room, my chest of drawers gives you a feel for the style of the room.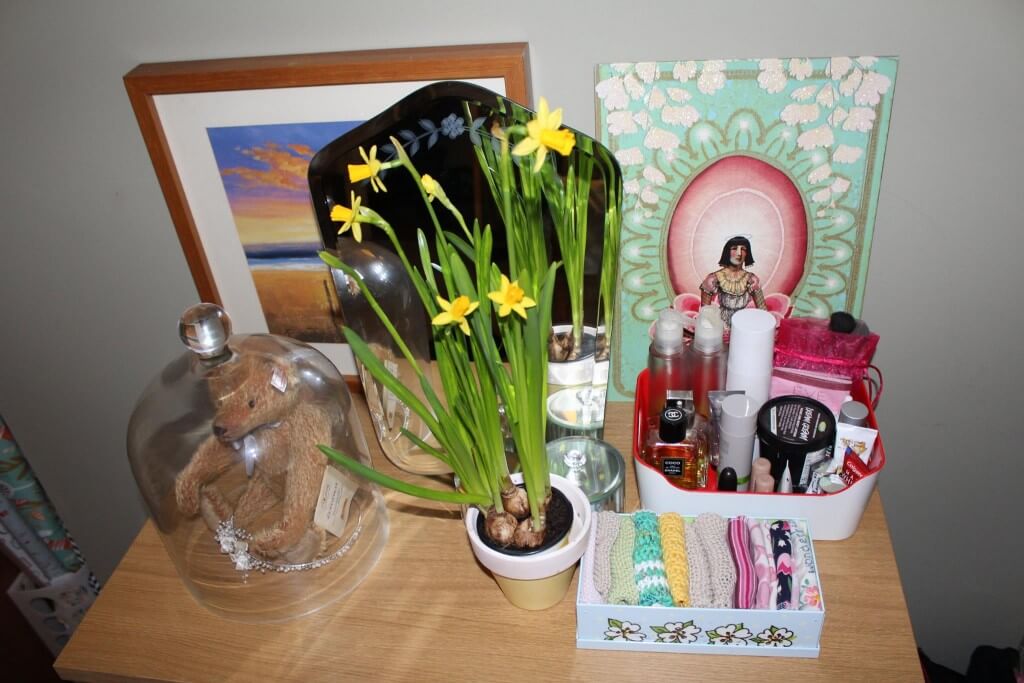 Speaking to Graham and Brown about some ideas for the space I decided to build on the soft sage theme in our bedroom drawing in colours from their Dreamscape range which I have also drawn out in the stationery and furniture too. You can see from my home office pinterest board that this draws on peach, cream, soft muted blues and corals. More on this in another post looking at the Dreamscape range with a review to follow.
Follow Thereandbackagainamotherstale's board Home Office Edit on Pinterest.
Top Tips for creating a home office in your bedroom: making the space work hard
I sought advice from Logitech about smart wireless solutions for homeworking and I have found their K400 wireless keyboard and mouse to be really effective in making the transition to homeworking in a way that works for me, they're sleek and really easy to get to grips with, I'm not very techie but I got these two beauties up and running in minutes! I can now work from anywhere in the house, so on days when I am home alone and everyone is out I can be in the living room with a wireless setup that I can also take out on the go when I am on site visits too. This fits really well with blogging life too – with a wireless range of up to 10 meters, I can even browse the web and blog all from the comfort of my sofa! I thoroughly recommend exploring wireless options as you can make your whole home work for you!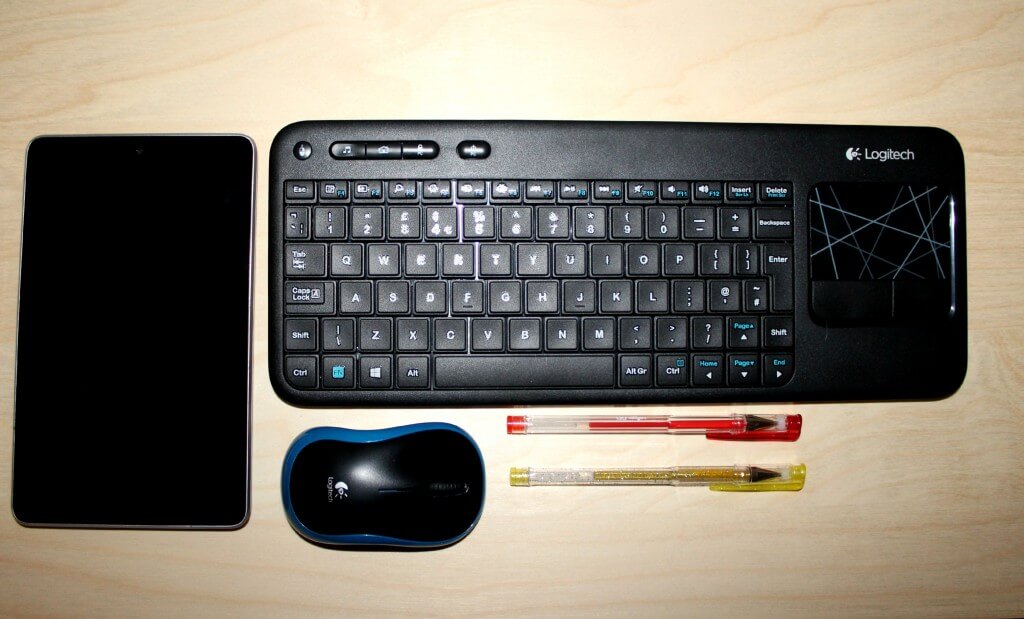 As a National Stationery Week blogger you will know stationery is a priority of mine! I've selected complementary colours from Dutch store Hema, Smiggle and Marks and Spencer drawing on the colour scheme with fun and practical notebooks, pens and office equipment – I know this stuff doesn't set everyone's world on fire but I've always loved to work with a bit of creativity and this helps me draw a bit of colour into my working day!
Having some photos helps personalise the space and I wanted to treat myself to a little something special too, when I heard I got the job I treated myself to some accessories from my favourite homeware store, Anthropologie, I adore this coaster and mug, as well as the sweet little plant pot!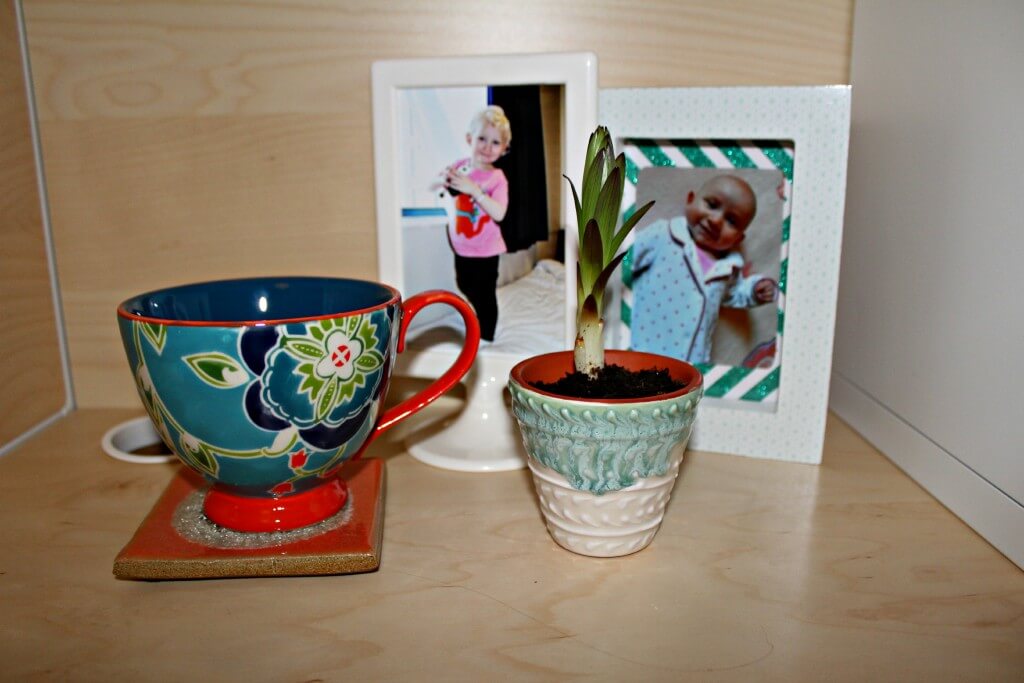 Top Tips for creating a home office in your bedroom: Practical planning tools
And finally, in terms of literally working from home and doing the do, I selected a bright vibrant magnetic glass noticeboard in Retro Yellow, (no secret that it's my favourite colour!) from Boards Direct – this lets me make a quick note whilst I'm on the phone, have a visual to do list to hand and handily stores notes and business cards too with super strong magnets. I love the write on wipe off nature of this, and with a choice of up to 21 beautiful colours and 7 sizes there's something to suit every office space and budget, with boards starting at less than £25. This 45cm x 45cm board is ready to be fixed up on the wall later this week, priced at just over £40 it's a bright statement and functional piece that offers great value and quality.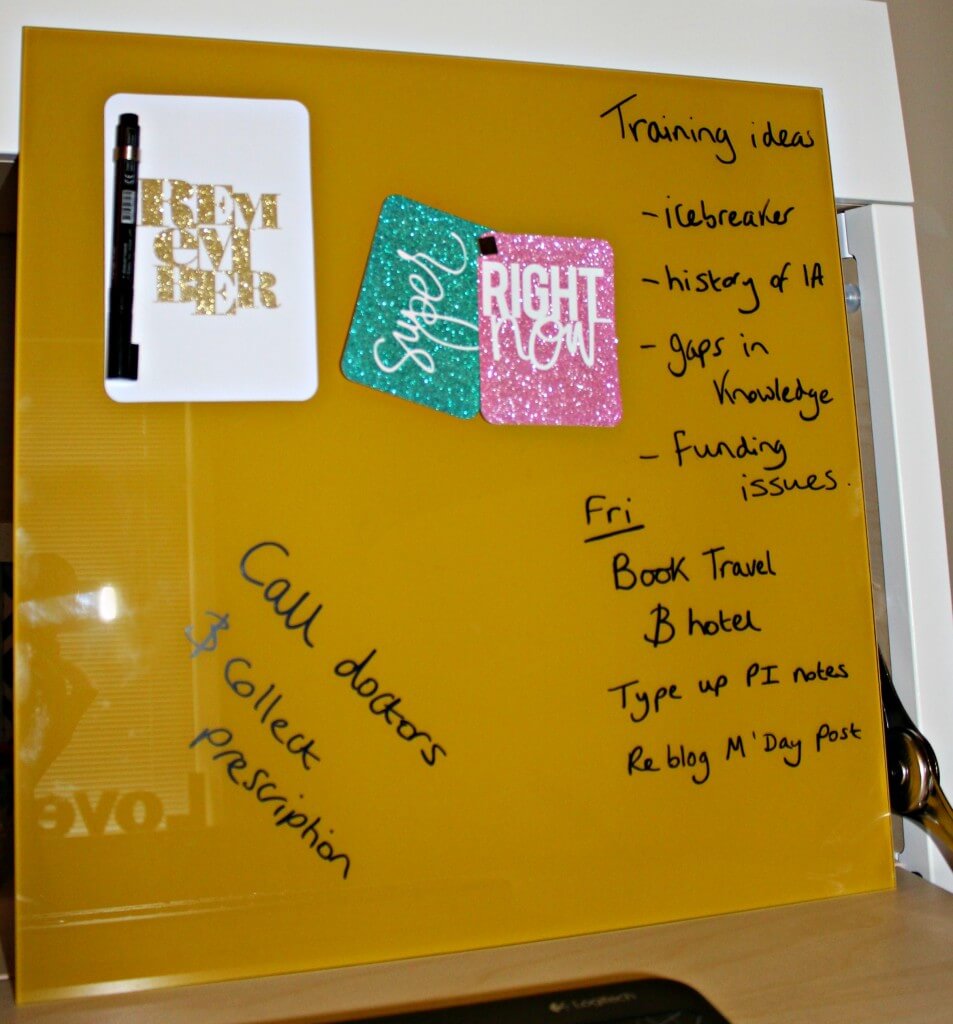 What about you? Do you work from home? What tips do you have for making your workspace work hard for you?
Disclaimer: I received goodies from Logitech and Boards Direct, all views are my own, all other brands referenced are of my personal preference and I bought these products or already owned them!