Enlist the help of your toddler to make a healthy, tasty and pure Granola that'll give you something guilt-free to look forward to every morning.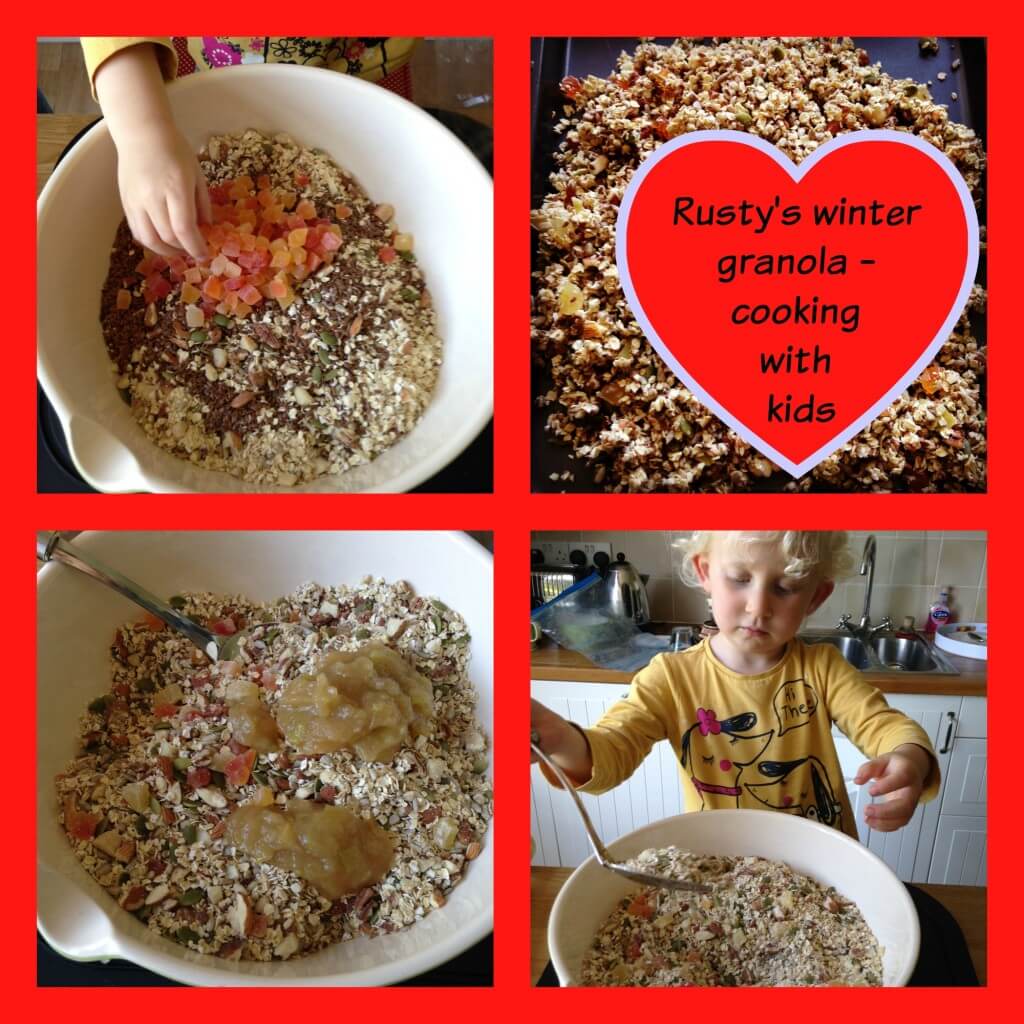 Ingredients:
I use about 100 grams each of the below nuts / seeds:-
Linseed – great plant source of omega 3 fats, adds a nice crunchy texture to the granola
Walnuts – omega 3 fats, can reduce risk of cardiovascular disease, source of antioxidants, good for your brain
Pecans – Great source of vitamin E which is important for healthy skin
Brazil nuts – rich in mono-unsaturated fats, vitamin E
Almonds – good source of magnesium which is good for a healthy heart, potassium, vitamin E
Sunflower seeds – lots of Magnesium, vitamin E, Selenium (may be good for preventing cancers)
Pumpkin seeds – contain Zinc which is great for your immune system, mood, sleep, skin (and more)
Dried, diced papaya and / or pineapple – taste great
One large cooking apple – for binding the granola
Honey – so good for you in so many ways I can't list them all here and anyway you need it to bind the granola together
Oats – I use quick cook oats as they're easier to buy in a supermarket but simple rolled oats are a longer lasting energy source
How to
Slice up the large cooking apple into chunks and put in a pan with three or four tablespoons cold water. Put a lid on and give it 5-10 minutes at a low – medium heat. Have a look and give it a mix. Once it's the texture of apple sauce take it off the heat and put it to one side while you prepare the rest of the granola.
This is where your toddler will love helping. Show her all the nuts you've bought for your granola and tell her what they are, what's good for her about them and encourage her to have a taste (being mindful about allergies and choking – you know your own kids). She won't like all of them but will hopefully like some. Eating nuts is a great habit to get children into – they're great for snacking and keep really well. Very healthy in moderation.
Now help your toddler to pour all of the nuts into a big, strong freezer bag. Seal up the bag (be sure to squeeze the air out first) and get a rolling pin. On a large chopping board or tough surface, help your toddler to smash the nuts up with the rolling pin. Keep her fingers out of the way and be sure to make some serious noise. I personally like to make monkey noises as loudly as possible with Joss. It's a fun way to let off some steam and smile. If the noise is too much for you or someone else at home, you could provide some monkey ear muffs for the duration. I try not to worry about the size of the nut fragments, it's nice to have a bit of a mixture for texture and crunch.
Get a big mixing bowl and pour in 500 grams oats, the smashed up nuts, seeds and dried papaya / pineapple. Ask your toddler to give it a quick mix to make sure the nuts and seeds are evenly distributed.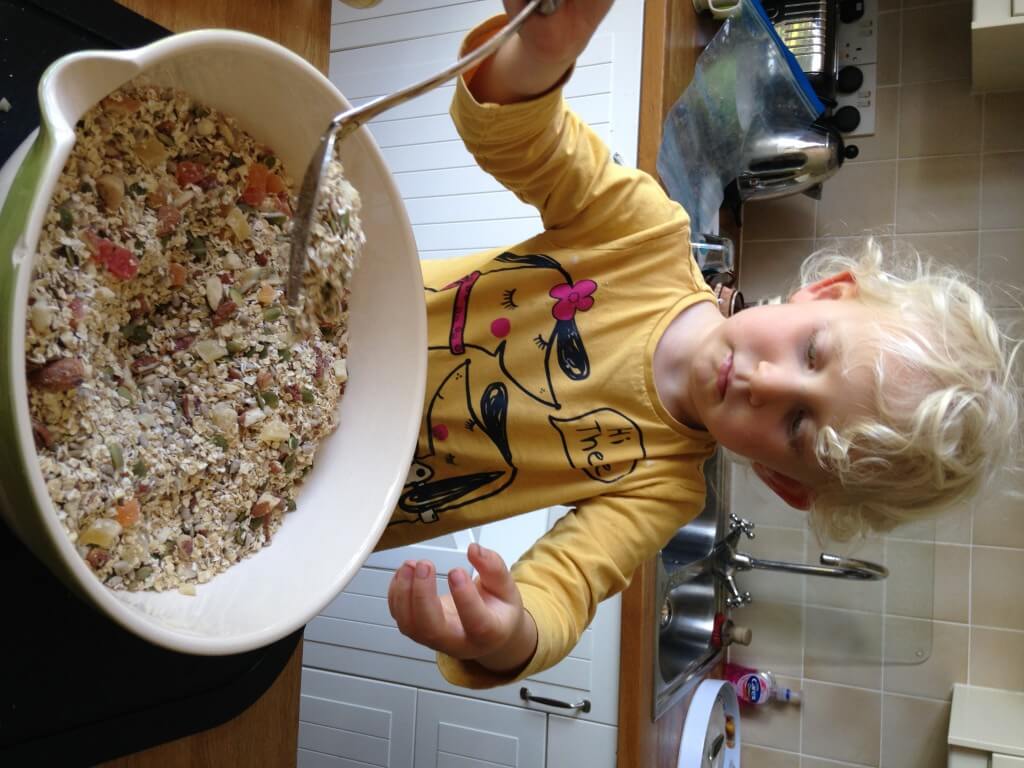 Now take the pan of cooked apple from earlier which should still be warm. Help your toddler to add 2 – 4 tablespoons of honey and mix in. You can use whatever honey you like but I really like using an orange blossom honey for the citrus taste. I add a couple of teaspoons of ground cinnamon too and then ask Joss to mix it up really well, trying to make sure the cinnamon is well combined, get your toddler to have a smell, amazing!
Ask your toddler to spoon about half of the apple / honey / cinnamon mixture into the bowl of oats, nuts, seeds and fruit and mix it in well with a big spoon. Once she has combined as much as possible, add the rest of the apple sauce mix too and ask her to give that a good stir in. You might need to help out to ensure that everything is well mixed in. The whole mixture should end up quite stodgy and moist. If it doesn't fit this description you can always add another tablespoon or two of honey to help it stick together.
Preheat your oven to around 140 – 160 celsius and spread the mixture out thinly onto baking trays. The last time we made it, the mixture covered 6 baking trays so we had to cook it in three goes. Put each round of baking trays into the oven for around 10 – 15 minutes, checking regularly and redistributing on the tray if necessary. A little browned is ok, but take care not to burn it. Once done, leave out for a few minutes to cool down and fully dry out. Break up gently and store in an airtight container.
I eat Rusty's granola with either coconut milk or natural yogurt and a little honey. You could try adding fresh fruit to it as well. This granola lasts me a month; don't overdo it – there are a lot of nuts and seeds in this granola so probably 3 or 4 tablespoons is enough for breakfast. What a great treat on those autumn / winter mornings!
Optional: I sometimes add finely chopped, crystallised ginger before baking. Use in moderation but it's a brilliant winter warmer!