Gosh this time last year I was enormous and used my time on mat leave wisely, looking into cloth nappies. Thanks to Go Real I was sent a free Pop In to try, baby came along, two weeks later I had a whole fluffy stash! I've blogged before about fluff love, this year I've been getting involved in Clothopoly and The Great British Nappy Hunt and have so far won a Bambino Mio in associated competitions. My big loves are Totsbots Easifits and Fuzzibunz Elites, as seen here in a washing action shot!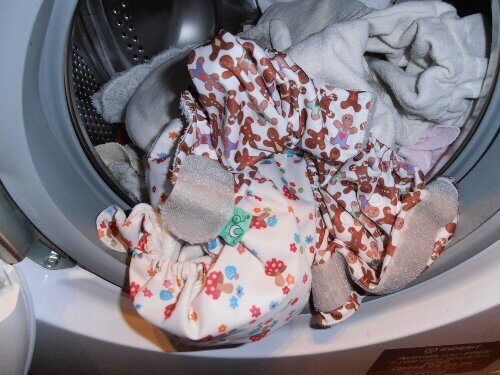 So here's my five reasons we cloth bum:
1) No car = risk of last minute emergency nappy low stock, now we always have nappies at hand
2) Environmental friendliness – Brits throw away 3bn sposies a year, which would take 500 years to decompose, a legacy I don't want to pass on
3) Good old money saving – we broke even by ten months, no more paying out for nappies, I try not to have more than I need selling the smaller size to fund the next
4) More breathable for wee bums
5) Supporting UK manufacturing through Totsbots, and wahm with the odd pretty

PS the cloth bum community at large is amazing, we've made a LOT of good friends through it!
If in doubt try a trial pack from your local nappy library, or check out a real nappy week event near you, you won't regret it!