Fancy something crafty for the weekend? We've been reviewing The Weekend Box club this week!
The lowdown on the Weekend Box Club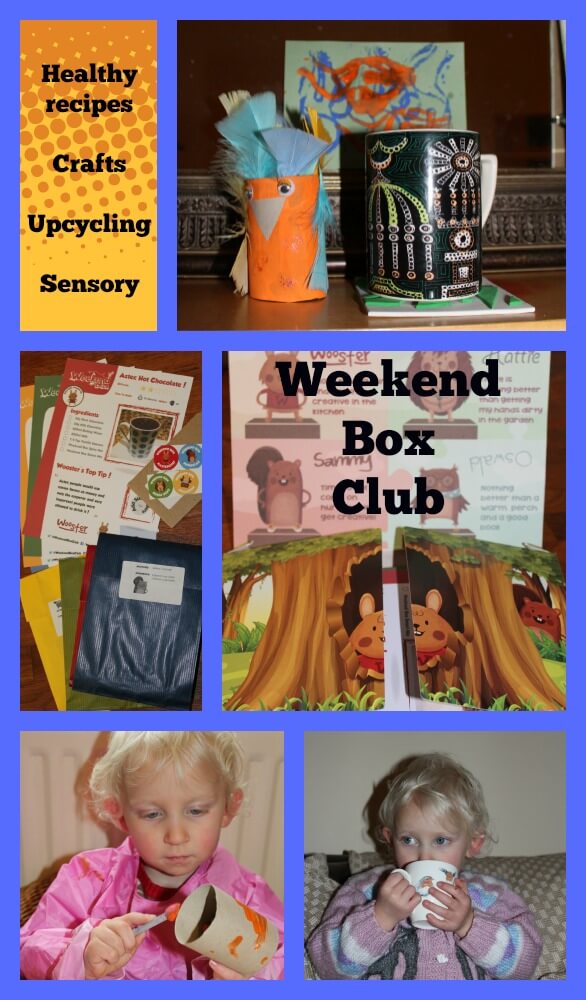 In November (2014) Weekend Box won 'Start-Up of the Year' at the Start-Up Loan Competition in London, the Weekend Box activity packs are designed to fit through your letter box fortnightly and contain four activities to keep little ones aged 3 – 8 busy over the weekend.

Each box has something foodie, something to upcycle, something to make and something sensory too. Sectioned into handy activity packs with a 'how to card' and stickers and certificate on completion the pack is so handy for getting some quick and engaging play off the ground!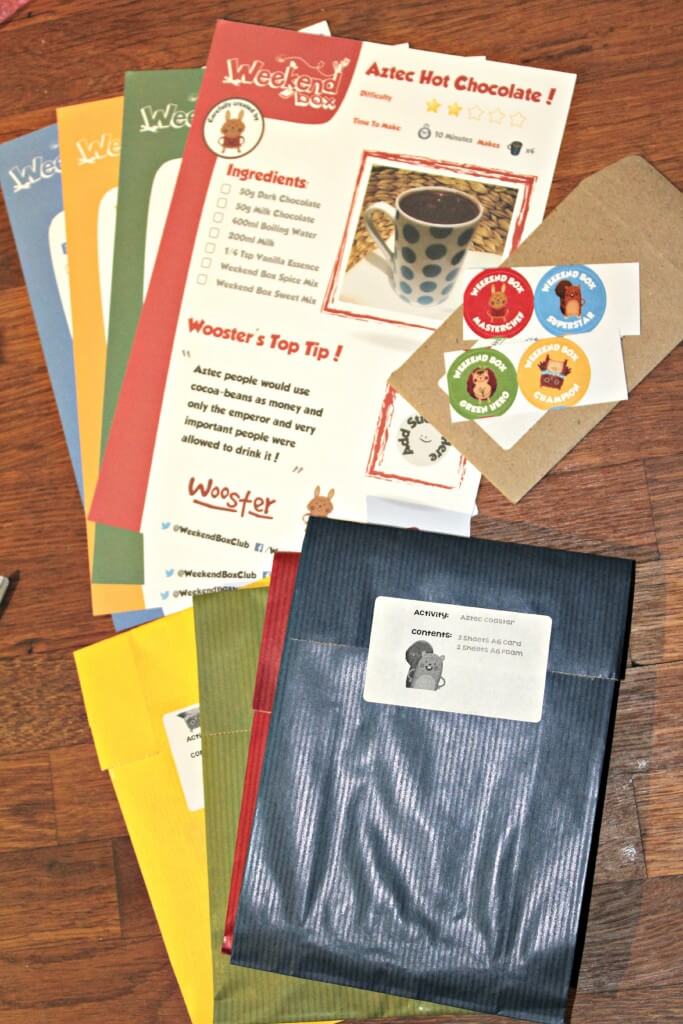 I love that the packs are designed to encourage discussion of healthy eating, recycling/green living and something sensory too, it's a really well rounded selection!
Each box has:
Something to Cook
Something to Make
Something to Explore
and Something Green
The Theme
The theme of our box was The Aztecs, although Joss is still a little too young to get the deal behind the theme we looked at some cool Aztec prints online in preparation for getting started! When the box arrived I was really impressed with the thought put into the design, how exciting for little ones to receive their own post in a beautifully printed box full of things to make and do.
The Activities
We had a whale of a time with our four activities. We made hot chocolate together and this was a bit of a special moment as J had her first ever hot chocolate and boy did that go down well! We talked about how it was a treat and the spice mix included in the pack smelled so good that it was a sensory activity in itself!
The crafty bits were brilliant, we loved making an Aztec parrot and as J has just learned to get to grips with little scissors making a coaster from foam was fun and resulted in a sweet little gift for daddy to take to work too! Although not the mosaic design that the pack suggested this demonstrates that the materials included can let kids do their own thing too! Finally we both enjoyed making the Aztec prints from string and this is something we'll definitely do again to make wrapping paper on a larger scale!
What we think
I think this is a brilliant idea and perfect for a rainy weekend or to dip into on a slower day, I've just recommended it to a friend who is stuck at home with a tot with chicken pox too! The age range, 3 -8 shouldn't put anyone with a younger toddler or older one off as the activities are really engaging at both ends of the spectrum (my little lady is almost 3). J and I were delighted with the contents, I loved the powder paint, ingenious stuff, and the resulting makes are brilliant and now taking pride of place in our craft gallery!
Try it for Free!
The lovely people at the Weekend Box Club have given me a promo code for you guys to get your first Weekend Box for free. Boxes can be redeemed from www.weekendboxclub.com with the code ANG236 (new customers only please and just one free box is allowed per household) – I'd love you to share your makes with us!