Very excited to have a guest post up over on the Tots100 site about Eating Out with Kids in Newcastle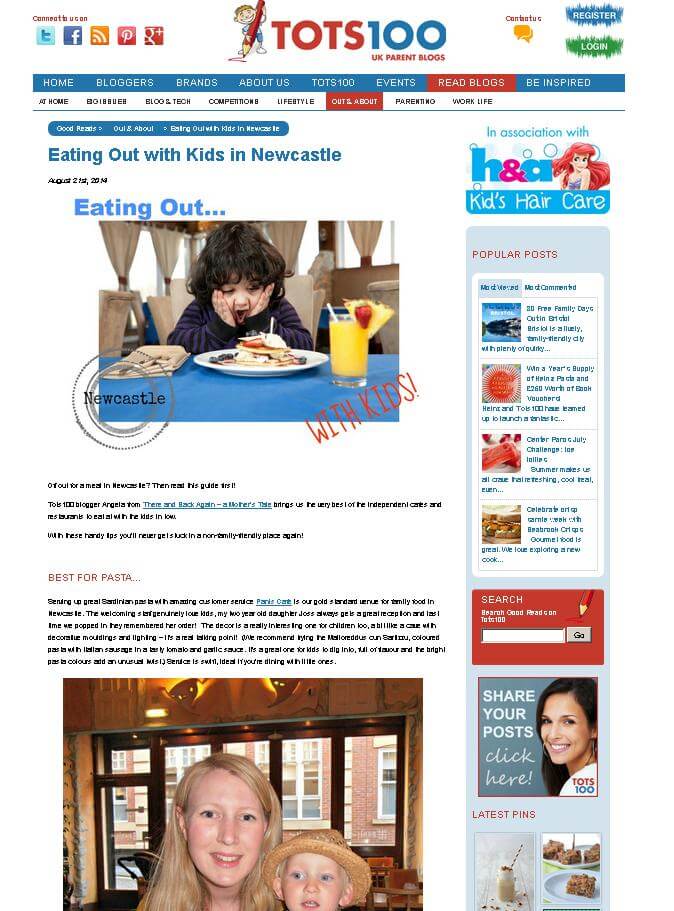 Eating out with kids in Newcastle
BEST FOR PASTA
Serving up great Sardinian pasta with amazing customer service Panis Cafe is our gold standard venue for family food in Newcastle. The welcoming staff genuinely love kids, my two year old daughter Joss always gets a great reception and last time we popped in they remembered her order! The decor is a really interesting one for children too, a bit like a cave with decorative mouldings and lighting – it's a real talking point! (We recommend trying the Malloreddus cun Sartizzu, coloured pasta with Italian sausage in a tasty tomato and garlic sauce. It's a great one for kids to dig into, full of flavour and the bright pasta colours add an unusual twist.) Service is swift, ideal if you're dining with little ones.
Best for kids' activities
For a really special dining experience As You Like It offers a weekly Kids Club with characters and storytelling every Saturday and Sunday between 12 – 4pm. Pirates and princesses abound and the kids' menu is pretty special too: £6.95 for starter, main, dessert and a drink. The small person's Sunday roast is a hit here and the portion sizes are spot on. This is a great venue for a kids' birthday party or for a special treat after a day out.
Best for a buzzing atmosphere
If you're looking to add a bit of zing to your children's palates head to Zapatista Burrito Bar. The food here is fast, healthy and tasty – and it's served in a buzzing environment. Portions are big so we often share a burrito but there's a good kids range too. It can get really busy here so, if the weather's good, we sometimes head back out to sit on the grass outside Newcastle's Civic Centre as the takeaway service is brilliant. The sweet shredded pork is to die for and if you're feeling brave and not sharing with a tot try the chipotle sauce – smoking hot!
Best for culture
Newcastle's museums are brilliantly varied, educational and child-friendly. Our favourite is the Hancock (also known as the Great North Museum). Once you've explored the natural science, archaeological and cultural exhibits head downstairs to the Street Cafe. This is somewhere we often stop for a simple sandwich lunch before heading back out to play on days where I've not managed to make a packed lunch.
BEST FOR ICE-CREAM
Who doesn't love an ice-cream? If we fancy a treat we often head to one of the three Mark Toney venues in town. If staying for lunch you can get a child-sized portion of any adult meal and the home cooking is good too. But the real reason we pop in is for the phenomenal ices! The ice-cream parlour decor adds to the traditional feel, the knickerbocker glory is a big hit with us.
Best for a brilliant cuppa
If you're looking for somewhere to stay and play whilst you have a good brew The Basement Coffee House is a hidden secret in the centre of town. Huge squishy sofas, a fab selection of drinks, paninis, bakes and snacks and a smashing playroom at the back for tots – this is a great place to meet with friends and chill out. The service could not be friendlier and, as the coffee shop belongs to Cornerstone Church which runs a lot of youth activities, it's also project that does a lot of good too.
Best for cake
Afternoon tea in the city centre is a fave of ours and Tea on the Green is the place to come for mouth-watering cakes, tasty sandwich combos and a truly great cuppa (the scones are amazing too!). A family-run and welcoming gem in the city, the vintage china is pretty special and adds to the experience – as does the loose leaf tea.
Best for quality ingredients
Finally, Bill Quay Farm Cafe over the river in Gateshead deserves a special mention. The Farm was recently voted top North East outdoor play venue and the cafe does a cracking range of local food, varied specials and home baking. Our favourites are the soups and curries, like this World Cup Special – so good they don't last long! If you're lucky, you can pick up some fresh farm eggs or some Bill Quay sausages to cook at home too!