Family Friendly Week (formerly Parents' Week) is a national awareness week run by the Family and Childcare Trust. The aim of the week is to increase recognition of the issues faced by families up and down the country, but also to celebrate the vital contribution families make to society.
Cook Together, Share Together, Laugh Together
The theme for this year's Family Friendly Week is Cook Together, Share Together, Laugh Together so I thought I'd take this as an opportunity to reflect on our family eating habits, what we enjoy about cooking and sharing meals together, and some of the laughs along the way too.
I'm also reblogging one of our favourite family recipes, a healthy treat for toddlers in the shape of my 'pack a punch toddler flapjacks' – they've had great feedback from other parents and Joss loves getting involved in making them too!
Cook together
My top tip for cooking with toddlers would be to get them involved from a very early stage, preparing food can be a great sensory activity and can be a good starter for little chats about favourite foods, textures and healthy choices. For example when we make these flapjacks we talk about them being a treat or a snack, include plenty of fruit which I generally leave open to Joss' choices offering her a range of dried or fresh fruits to add to the mixture, and the last time we made them we talked about the honey we add, and about buzzy bees too!
Share together
Sharing a family meal time is important to us and we like to offer Joss plenty of choice and a say in what we eat too. If I ask her what she'd like for dinner nine times out of ten she will say chicken pasta or sausage, broccoli, carrots and potato (it's become like a song!) so those evenings I will try to accommodate her choices, or ask her to choose between a few different veggies so she feels she's contributing too!
Laugh together
Clearly when cooking with a toddler much hilarity ensues, the last time we baked bread together we had to start again as the yeast was tipped onto the floor and when we made a crumble Joss was very interested until I said we'd be having homemade custard and she declared she wanted chicken dinner instead and wouldn't try the crumble at all! There has to be a light-heartedness about family meals, I always said I didn't want to have a battle over mealtimes and I think we have a fairly relaxed attitude to it all which helps this along, if it all goes wrong and I cut the toast wrong or can't stick a banana back together after slicing it the 'wrong way' (aren't toddlers fickle?!) the promise of being allowed to stir something in the kitchen or to play with the dried pasta usually gets things moving along again!
My Low Sugar 'Pack a Punch' Toddler Flapjack Bars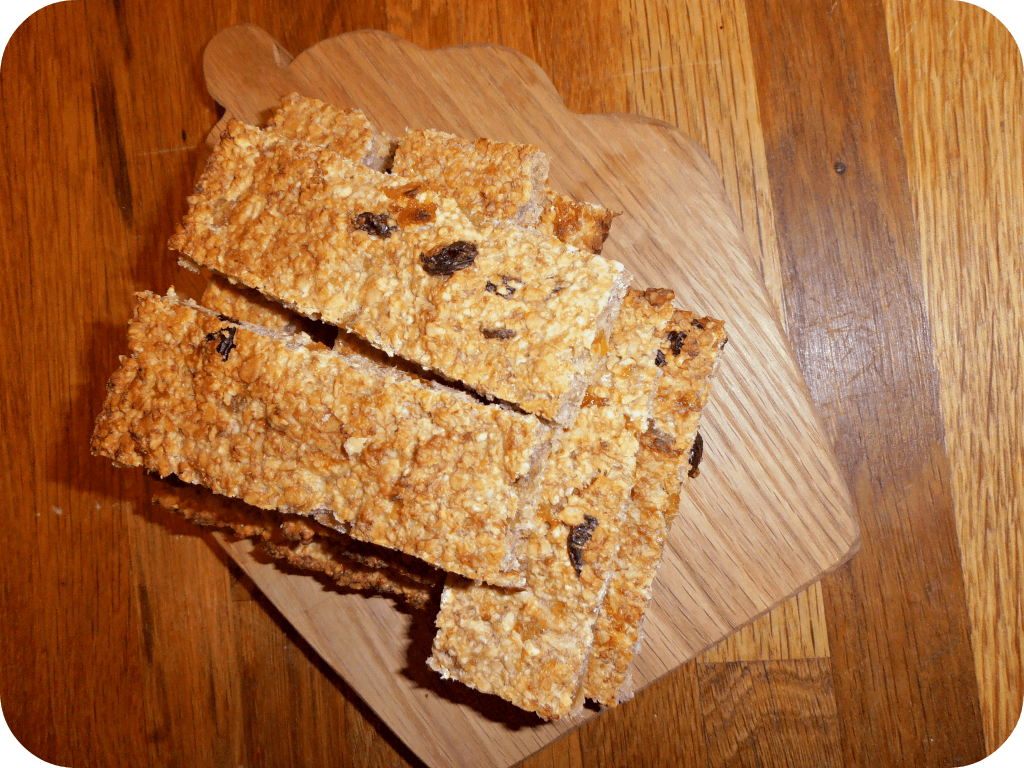 We love to eat these snack bars and adding flour means they hold together with less crumble so they're really portable too. These are apricot and raisin but they are lovely with dates, prunes or dried berries too! Honey keeps them chewy but can be omitted for even less sugar. Why 'pack a punch?' Because they're chock full of dried fruit and banana to keep you going on a busy day!
Ingredients
100g butter (toddlers could often use the extra fats but you can use light spread for grownups)
100g soft, stoned dried apricots chopped roughly
30g raisins
2 large ripe bananas, mashed
Large tablespoon self raising flour
2 tbsp honey (or fresh apple juice if preferred)
250g porridge oats
Instructions
Preheat oven to 180 degrees.
I make this in one pan, transferring into a silicone tray, if using an ordinary flapjack tray grease with additional butter.
Warm the butter in a saucepan and add the honey or juice, warm gently for a minute to loosen the honey, then turn heat off.
Add the chopped apricots and raisins, and mashed banana and mix well
Measure out the oats and mix self raising flour through them
Tip floury oat mix into the pan and mix well so the oats start to soak the moisture and look golden, the flour should all mix through.
Tip the mix into your flapjack tray and spread out, pressingly gently with the back of a spoon.
Bake for 15-20 minutes or until golden brown
Take out to cool, when cool turn out and slice into bars. Store in an airtight container and eat within 3-4 days.
Enjoy!
So over to you, this Family Friendly Week how are you introducing sharing and laughter into your family meal times?