When I was pregnant with Joss I was given a set of 'baby essentials' by a friend, and in the box was a bottle of Milton sterilising fluid.
I was taken back to the age of eight, when my baby brother came along and the distinctive smell of Milton brought back a really familiar feeling.
Now in its 65th year did you know that the original Milton Fluid was first used as a disinfectant during the First World War, and was taken into the trenches to treat skin burns?
After the war, the Milton Fluid continued to be used as a general antiseptic, disinfectant and food preservatives, as well as being used in hospital surgical procedures and later it became associated with sterilising baby bottles.
We used a Milton classic cold water steriliser like this after using it on the hospital ward to sterilise the nipple shields I brought with me, the bucket and secure lid were really handy and the clear instructions helped me through the fog of those first few difficult weeks when we moved to sterilising bottles too, something I found quite stressful but quickly got the hang of thanks to the easy directions. I continue to use this now to sterilise Joss' drinking cups as they tend to be quite hard to clean.
Milton Sterilising giveaway
Milton have a wide range of products to offer to new parents, including microwave sterilisers and portable soother sterilisers too.
The lovely folk at Milton have given me two brilliant must-have prizes to give away, one lucky reader will receive a Milton Combi Microwave / Cold Water Steriliser and some sterilising tablets to get you started, and another lucky reader will receive a Milton Mini Portable Soother Steriliser with mini sterilising tablets to get you started (soothers not included).
Here's a run down of both products. First up, the combi steriliser, A 2 in 1 microwave or cold water steriliser, it holds five bottles of any brand, fits the majority of microwaves and sterilising from 2 minutes in the microwave and in 15 mins with cold water it's a fast option for a busy time in any new parent's life.
The soother sterilisers are a new one to me as we didn't use a soother; 2 in 1 it cleans and sterilises soothers on the go with no need to rinse and with a hand adjustable strap to easily attach it to your buggy, pram or change bag this is a great portable option for always having a spare soother ready when out and about!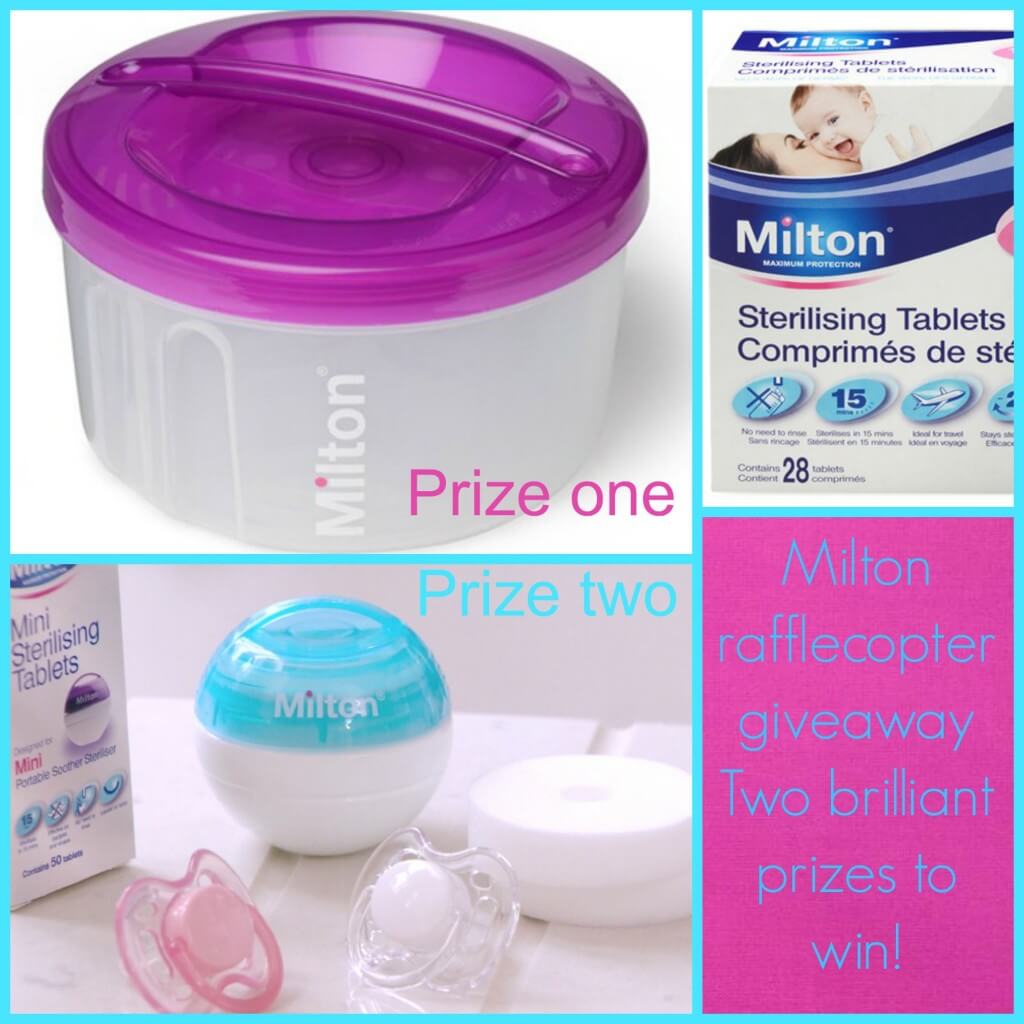 To enter this giveaway simply use the Rafflecopter tool below, terms and conditions as follows; UK postage only, winners notified within 24 hours of the giveaway closing, responsibility for sending out prizes is with PR company associated with the brand, there is no cash alternative or prize alternative.