We just celebrated three years of marriage and I had a good old reminisce about it by poring over our photos.
I haven't really blogged about our day but used to love looking at 100 Layer Cake and Rock n Roll Bride so it seems appropriate to copy (ahem, take inspiration from their style spreads)!
Here's our lemon and lime theme wedding!
The flowers
I obsessed about craspedia flowers in the year run up to the big day, they're my fave flower in my fave colour and so once I found a florist that could source them I planned the whole day around them and devoted a page of my wedding planner for craspedia inspiration!
My bouquet had temarisou, craspedia and white chrysanthemums with lime centres
The decoration
I made our invites and a few other touches like the postbox and the wishing tree and then ran out of time so we didn't have the giant pompoms or bunting I wanted but otherwise it felt like there were lots of personal touches!
We had vibrant floating candle centre pieces and bright yellow sashes on the chairs
The insert invites appealed to my stationery obsession!
The cake
Handmade by my lovely and super talented cousin I wanted something delicate and lacy, the brooch and ribbon now adorn our wedding photo album. It was a rich and yummy fruit cake, one of my fave memories was taking a break from honeymoon packing to look at our cards and eat more cake the following day!
The dress
The first I tried on and I just knew it was the one, I tried just five dresses and this one, Meryl by Romantica was everything I hoped for, light silk, beaded lace detailing, swags and with a Grecian drape to it; I loved how lightweight it was for a summer wedding
The car
A lovely vintage ride!
The bride
I had my makeup done by my fave artist from my local MAC counter in rich plum tones and hair by Helen Church who did these fab sculpted curls. The tiara detail matched the loops of silk on my dress and I wore my favourite Chanel perfume. My garter was made from vintage silk and pearls and is now stored in a Laduree box from our honeymoon it was my old and new and my Mam sewed a tiny blue stitch into my dress lining for something blue, I borrowed a little button from a friend that was stitched onto my bouquet handle.
The groom
He wore a hire suit, no top and tails, it would have been too formal, he had a craspedia button hole and I gave him some new cufflinks too

The big day
We married at the church I was Christened in and Joss was later Christened in too, I was so very nervous that I had to catch myself and really focus on the service! Walking out hand in hand with my new husband felt like a dream and I couldn't stop grinning; after a few photos we headed to Saltwell Towers for afternoon tea followed by a wedding breakfast, the sun shone and it was a magical day.
We partied into the night and got some lovely night shots too!
The story wouldn't be complete without our wedding album, keeping to theme I had one photo enlarged and we chose a vintage frame from Re in our wedding colour to display our favourite photo.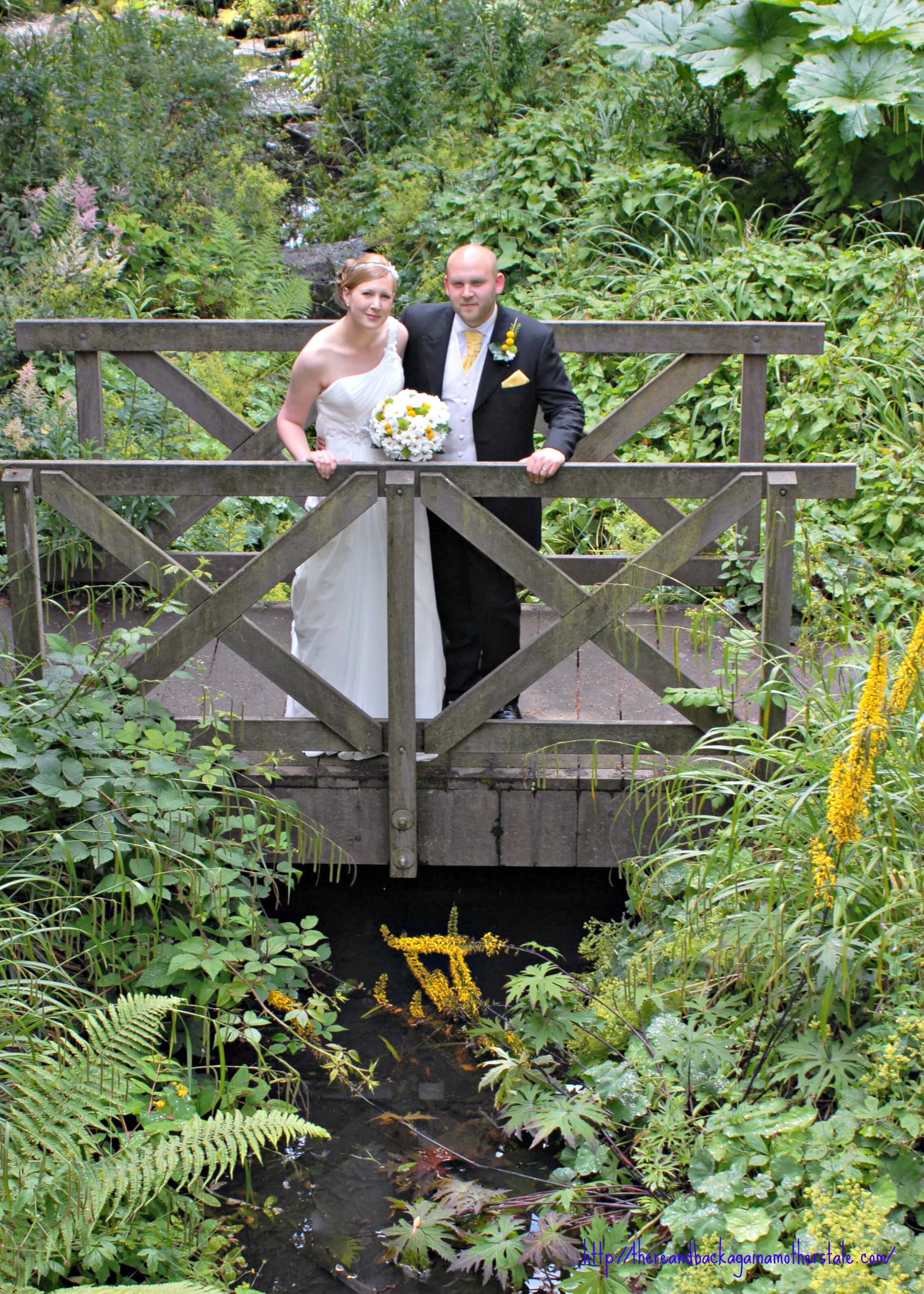 And finally…
Joss came along and my dress was chopped into a gown fit for an eight month old princess, nerve wracking to see it chopped up but totally the right thing to do, this heirloom gown will stay in the family for generations to come!
Blogging these pics was a small thing that made me smile a lot!