Real Life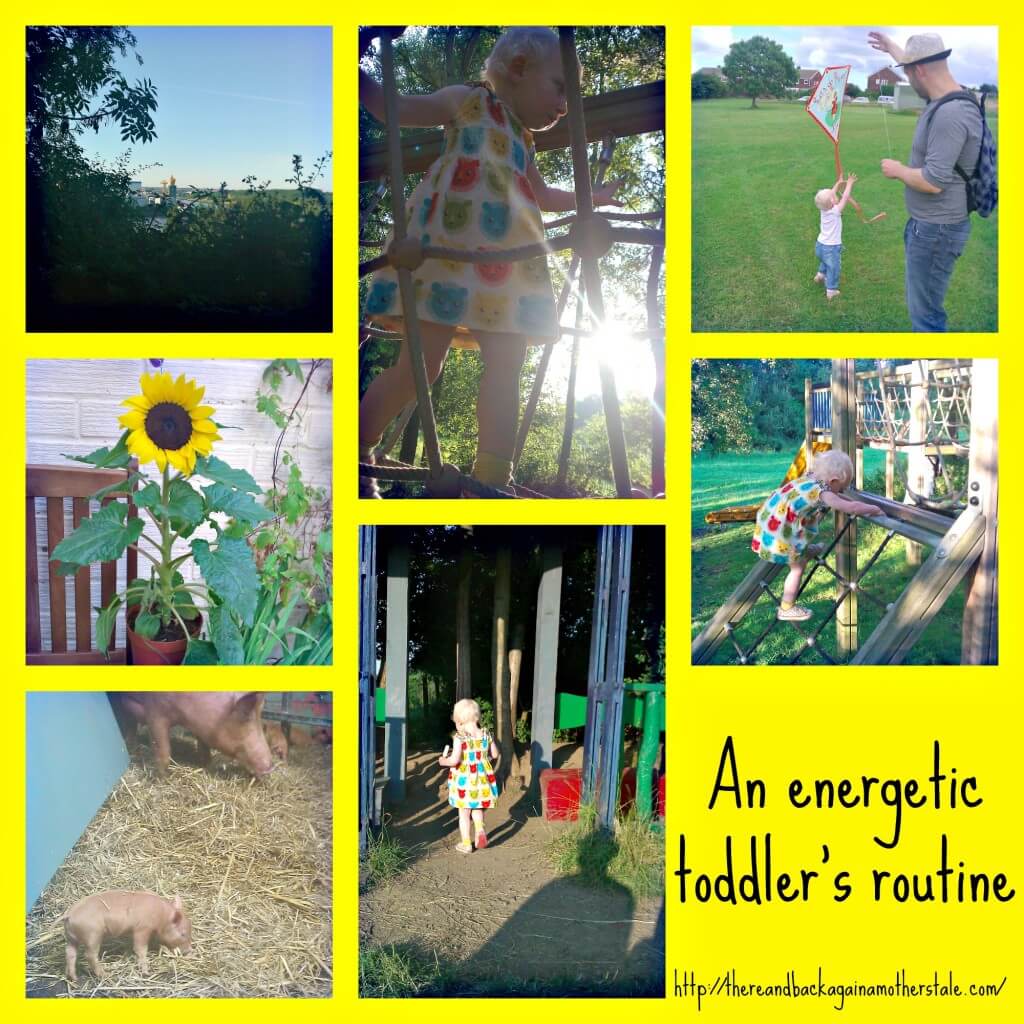 If you have a toddler that literally runs headlong into life from 7am to 8pm you have to be prepared to run off A LOT of energy! Entertaining a two year old is easy in many respects, just get them out in all weathers, but challenging too, especially as they haven't developed their listening skills and are adept at running off, hair-raising stuff!
Our local park and farm are godsends, she's learned to monkey her way up ropes lately tackling some pretty challenging climbs in a way that's so fearless I'm really impressed!
An average day now looks like this, makes me wish we had a PJ day occasionally but generally we like the routine!
7am – up and breakfast, bit of Sarah and Duck on Cbeebies
7:30am – we shower together
8am – we get ready to hit the park
8:10 – climbing frame and swings for half an hour then walk home
9am – play with toys at home
10am – snack whilst I wash up
11am – quiet time with books or head out to see friends/go to a group
12pm – lunch
12:30 – walk up to local shops home via Farm
1pm – Joss naps I work/blog/craft/study
3pm – I prep dinner whilst she plays
3:30 – park/library/go crazy running around
4pm – quiet play or reading whilst I cook, sometimes she 'helps'
5pm/6pm – family meal, Cbeebies for 30 minutes, chat/listen to music
7pm – last trip to the climbing frame!
8pm – supper, night time nappy and bed
Crazy stuff seeing it written out but it makes for a tantrum-free, happy, healthy tot and by that extension a happy mama!
Blog Life
I really enjoyed crowd-sourcing this post with some fellow bloggers, it's about visiting art galleries with kids and features the Daniel Buren exhibition at Baltic
Inspiration
This week I was really inspired by the parents I've been speaking to about the postnatal depression support group I'm getting off the ground, and also in some chats with fellow bloggers including Mums Day's Hannah.
Life is really busy but in a good way!
I'm currently seeking inspiration for my next tattoo, this quote caught my eye so I drew up this little poster, haters gonna hate!