These 5 fabric transfer paper gift ideas were inspired by some great tutorials over at Wolves in London, Sabrina's blog is a great resource and so I have to start this post by thanking her for introducing me to a great new craft addition! If you're of the crafty ilk I urge you to check out her tutorials
I have been beavering away with making gifts for a while now, part of my moneysaving plan for birthdays and ahead of this Christmas I have been trying to make as many cards, gifts and wrapping as possible. I sort of hit on a slow period this Summer and decided to look around. When I saw Sabrina's lovely fabric transfer projects I had to have a go and made a list of fabric transfer paper gift ideas. As I was going for a low cost base I picked up transfer paper in Poundland. Two sheets for a quid made all of these projects plus I have made a further ten tags, five mini cards and countless fabric drawstring bags! Essentially I pasted all the images I wanted to print into a Word document and adjusted the sizes til they fitted on two pages, then I printed them and cut out the images ironing them onto my projects as and when needed.
I sourced my images from a range of places, including by searching for 'free vintage printables' on Pinterest.
Here's my rundown of 5 fabric transfer paper gift ideas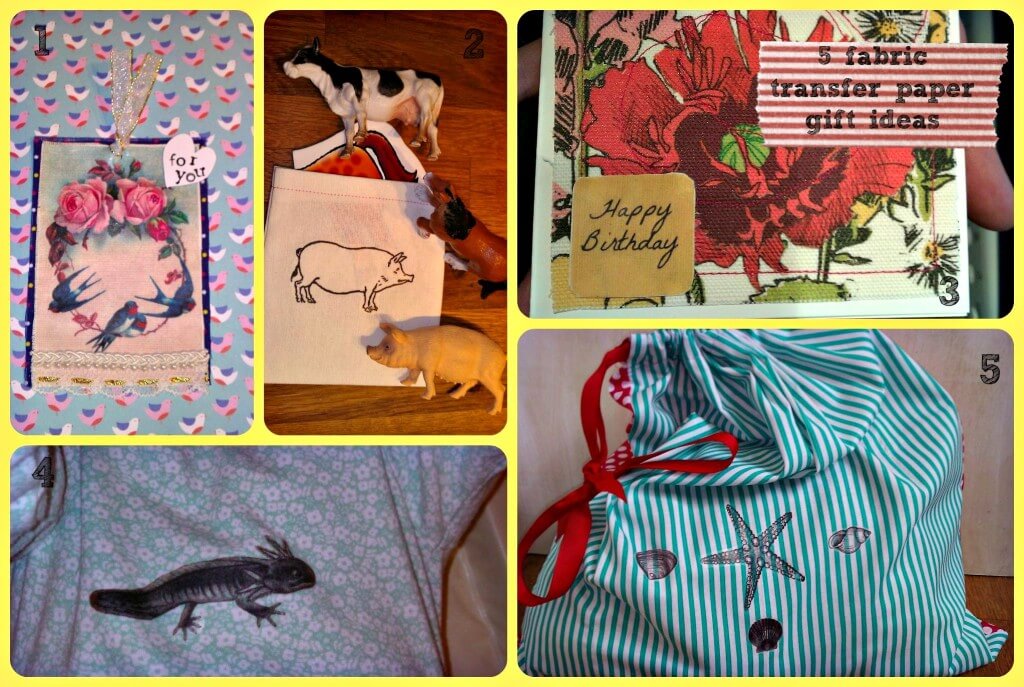 1 – Vintage sweetheart print gift tag with lace and pearl embellishment
Ironed onto some plain calico and then cut out and layered onto fabric this sweet tag was then embellished with a piece of lace from my stash and some pearl braid which I use for so many projects but picked up from my local fabric store for a bargain 5p a metre in their fantastic sale. I have since made oodles of these little tags, they make simple presents look really special!
2 – Children's party favours or travel storage bags
I made this little calico bag in about ten minutes to store Joss' farm puzzle pieces which kept getting lost. She loves this simple pig print and I think it would look great on a tea towel too! These would make cute party bags filled with sweeties or a little colouring book and crayons
3 – Fabric cards
This does what it says on the tin, I have loads of fabric samples and often stitch them freehand onto card but don't always have complementary Happy Birthday stickers, instead I typed and printed up some Happy Birthday motifs to add to my cards!
4 -
An Axolotl'y Fabulous Tee
Joss' favourite word is axolotl, for those not in the know an axolotl is a 'walking fish' and there is one at our local museum. Joss loves them, she also loves printed tees but the chances of me ever finding an axolotl tee were pretty slim, now she has one! I know this won't be for everyone but it's made a Mama and her Girl very happy!
5 – Fabric drawstring storage bags for shoes, undies, you name it!
These become an altogether nicer gift for the addition of a little ironed on motif, this beachcomber print is perfect for my seaside loving girl and stores her precious cuddly toys, I made myself one with a print of a pair of special shoes and another to give as a gift with the recipient's name printed on.
I hope you like these fabric transfer paper gift ideas, if you have a go yourself do let me know what you make!