Peg Conley has been an artist all her life, her watercolours are beautiful. After being a part of the corporate world for 25 years, Peg had an aha! moment after telling herself, "Imagine the life you want to live, then live it. It's that simple." Along with her family's support, she was able her to move to San Francisco to pursue art and start a business based on her artisan stationery.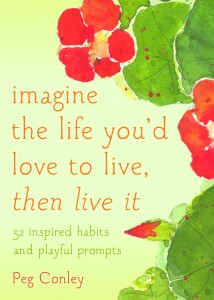 Now she's written about making our goals happen; have you ever had the means to meet a goal or fulfill a dream but couldn't find that bit of motivation to take that first step? Imagine the Life You'd Love to Live, Then Live It could be just the kick start you need.
Separated into 52 chapters that offer both small steps and huge leaps in growth and advice for each week of the year each chapter is carefully crafted to offer words of wisdom and encouragement in Peg's quietly reflective voice. I recently started journalling as a way to help me map some of my bigger life goals and work out the direction I'd like to take my working life in as well as our family life, I suppose doing this has helped me to be more mindful and work on my 'presence'. Peg's chapter on journalling is a great way to get started and is probably one of my favourite chapters.
An inspirational read
Talking to friends about what I've been reading has sparked some really interesting conversations, so I thought I'd share some of my favourite lines from the book to give you a flavour:
There's an exercise in the book about visioning – "imagine, what will your life be like in 10 years if you stay within your comfort zone? What if, instead you continually expand your boundaries from the comfort zone to the courage zone" – this exercise really helped me to set some solid goals for 2015, Conley includes quotes about courage to inspire and encourage and I felt re-energised after some very tough weeks at work where I felt I'd lost my sense of purpose.
There's also a section on creating a calming space in the home that inspired me to reclaim our bedroom from toys, Conley asks "where can you find a physical space that can become a sanctuary for you to retreat to?" – I feel like my head can feel cluttered if I don't have somewhere calm to think so this section really made me think about other areas of the house that I could keep less cluttered to release my mind from clutter too!
And finally another great chapter for the New Year is about doing something to discipline yourself, this appeals to me as I tend to procrastinate and put things off but I 100% feel great about myself if I kick a habit or manage to start a new one. Conley uses the idea that you can "do anything for 15 minutes" to shift the inner voice that says "I can't"
Want to give the book a go yourself?
I have three copies of this brilliant inspirational book to giveaway, please enter using the rafflecopter form and read the T&Cs (UK entries only).