"Just don't wear beige, it might kill you!"
I would have totally discounted this TV show, it sounded like it was going to be one of those reality TV fashion shows but I did a double take when I saw the listing and am really glad I did! Did you see it?
I think Channel 4 do some really promising documentaries, and this was definitely substantial as well as stylish. The notion that you have an identity and a valued sense of self at 70, 80, 90+ has been quietened in favour of the 'little old lady' and these feisty ladies were keen to campaign and fight back, they have a voice and they want to be seen as well as heard!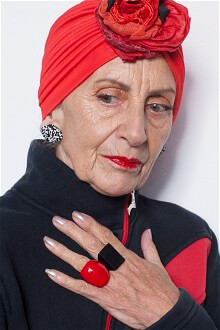 Jean's turn to working in fashion at the age of 70 was so refreshing and I loved that Channel 4 let this play out without seeing these women as eccentric or kooky, they were simply loving life and embracing all of its colour instead. Gillian's wise parting words on ageing…"Don't let it in!" was triumphant, spirited and left me feeling uplifted, inspite of lifes knocks and turns all six women were determined, words like campaigner, artists, fashionable and humourous are not only the domain of the young, and this programme was a breath of fresh air.