As a tall lass I take a shoe size nine and finding good quality clothing and shoes that are both style-savvy and easy on the purse has been a real challenge at times!
Stockists of size 9 shoes are few and far between and it's often frustrating that I can't choose from popular brands; enter Shoetique who offered me the opportunity to review a pair of size 9s in the brands they carry, thank you Shoetique, I had no idea so many of the bigger brands are made in my size!

Carrying brands including Clarks, Barbour, Hunter and Emu Australia Shoetique have a brilliant range of shoes, boots, trainers and slippers for men, women and kids too! I spotted some great bargains for J in the kids sale at a fraction of the RRP which is great as she is going through pairs like there's no tomorrow with frequent growth spurts! I'm a huge fan of Hunter wellies too, so it was great to find somewhere to buy within that range in my size too.
I was really excited to see that Fit Flops are one of the brands they carry in my size, I had heard great things about the brand but dismissed it as I thought I'd have to choose from the men's range as I often have to for trainers and sports shoes.
Shoetique Review: Fit flops
Not so, these fab canvas mary janes are in my favourite mink colour and are really comfy as well as having that classic Fit Flop built in cushioning, even better you can snap them up in the great value Shoetique sale for £37.50 (down from £75). They're super comfy, so lightweight and I'll be popping them into my workbag to change into when I pick Joss up after work!
Now clearly these are more of a spring/summer buy so I'm styling these with more relaxed springwear for the purposes of this post, but there are some brilliant winter boots and gorgeous wellies also up for grabs in the sale! I love the cushioning of the Fitflop soles and the ballet pump shape but even better these are trainer-comfy so perfect for family days out!
Thanks Shoetique!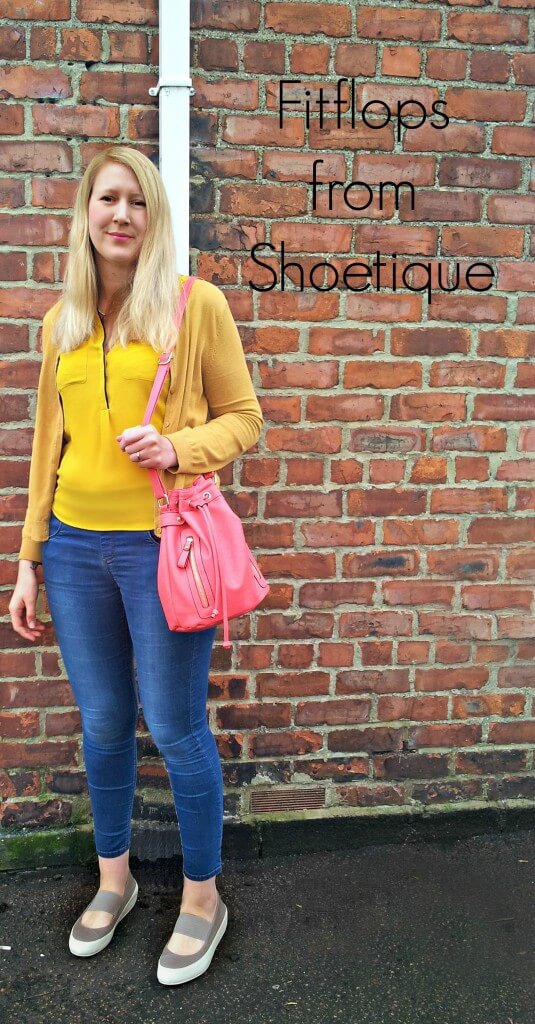 Shoetique offer a range of additional benefits to customers including price matching, great service and free next day delivery on spends over £40, for great brands and great value Shoetique offer a winning combination!
Disclaimer: I was sent these shoes in return for an honest review, all views are my own