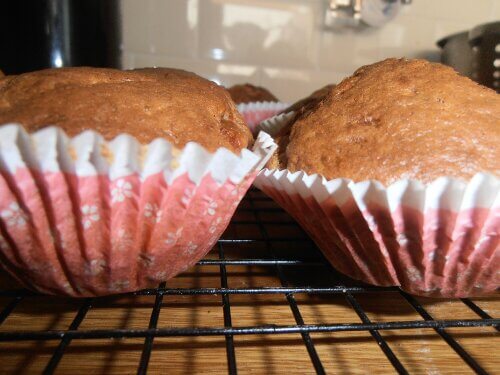 Its GBBO again, I'm no Mary Berry but I'm fond of practical family baking and they don't come much more practical than these banana breakfast muffins! Bake Off worthy? No. Toddler worthy? Oh yes!
Ingredients:
2 large eggs
3oz butter melted gently
3 overripe bananas mashed
Half teaspoon vanilla extract
1 tsp cinnamon
9oz self raising flour
1/2 tspn each of baking powder and bicarb
4oz caster sugar
4 fl oz milk
Preheat oven to 190 degrees
Sieve all your dry ingredients together and melt your butter.
Add mashed bananas, milk, beaten eggs and vanilla extract to the butter. Mix well, tip into a well in the centre of the dry mix and gently fold in.
Portion into cupcake/muffin cases and bake for about 20 mins until golden, my mix made 12 large muffins, yum!