For some people expecting a new baby or becoming a parent can feel like an isolating and lonely time. There are lots of reasons why this might be the case, and pre and postnatal depression is one of them.
For over 2 years now I've been involved with an organisation called PANDAS Foundation who aim to make sure that no individual, family or carer feels as if they are alone. Whether this is through support and advice through PANDAS services including email support, PANDAS Help Line, or at a PANDAS Support Group, or through wider campaigning, PANDAS is supporting families navigating mental health challenges, and as regular readers will know this is an issue close to my heart.
I run a local PANDAS affiliated support group, supported by Launchpad Ncl and working in close contact with local statutory services who offer signposting support and support to make sure our members can engage with local consultations and have a say about parental mental health more generally.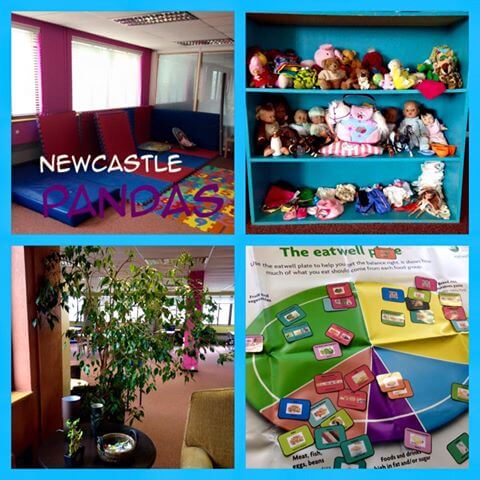 In a recent blog post for Men Tell Health I talked about the benefits of peer support for parents facing pre and postnatal mental health conditions; but I haven't really blogged about these benefits on my own site, so am taking the opportunity to do so now to raise further awareness.
What we've set up in Newcastle is a really informal, but strongly supportive peer support group that's inclusive of children, dads and the wider family network, grandparents, sibilings etc and that tries to reach out to anyone who wants to support their peers through their ongoing recovery.
What to expect from peer support:
Every PANDAS group is different, but coming to a PANDAS group is a chance to meet as a small group of peers, to share experiences, gain emotional support and realise you're not alone, helping make life's challenges as a new parent a little bit easier. By reaching out and talking about parental mental health I hope we'll start to see a different way of talking about new parenthood. Perhaps one where people feel they can be honesy about their experiences, where coping with sleep deprivation and low mood are discussed at baby groups and 'it's OK not to be OK' becomes more openly accepted.
At our Newcastle group we meet the last Saturday of each month; new members are welcomed with a new members pack and are introduced to other members; if the group is busy I might try to buddy up a new member with someone who has been there a while.
We get a cuppa on the go and will either have a chat about an issue the group are interested in, have a speaker to talk about an aspect of parental mental health (we've had talks about nutrition, the early days with a new baby, birth reflections, a talk from a GP about medication) or we'll have an informal stay and play type session with toys for the little ones, and just catch up about how the previous month has been.
There's no pressure to share anything you're not comfortable with, and members can feel free to syat for the whole session, or just drop in and out as they please. We recently moved to a new venue so are finding our feet with a new setup, but I'd really like to see us grow the group and so outreach is something I'm spending a bit more time on.
Parents who have accessed the group have said:
"I haven't been to many support group sessions as I think just being with other mums helped me see that I wasn't alone in feeling scared, lonely and struggling to come to terms with being a mum, missing my old carefree life; hearing someone else say "it's all a bit boring some days" was a relief! I'm feeling much better but it is good to know you're there if I need to come back again."
"A safe space to talk, to let out my anxieties and find some hope that it would get easier, suggestions for talking to my GP, ideas for things to try, and a really nice group of people that I can be honest with, I wish I'd heard about you guys sooner!"
"Coming to the group and saying "I'm not OK with how I'm feeling" was terrifying, but the group is really supportive and helped me to see that I wasn't a bad Mam or a terrible person, I was tired, burned out and struggling. I needed somewhere away from home to let all those worries and feelings out, and now I feel better I want to support others so I'm still in touch with the group, thinking about baby number two and I now know others who have taken that step are there to support me"