This is a bit of a teaser blog post as I'd usually be posting my bi-monthly organic roundup about now! I'm currently editing this month's guide but as we're in Organic September I'm kicking off the month with a little guide to going organic to raise awareness.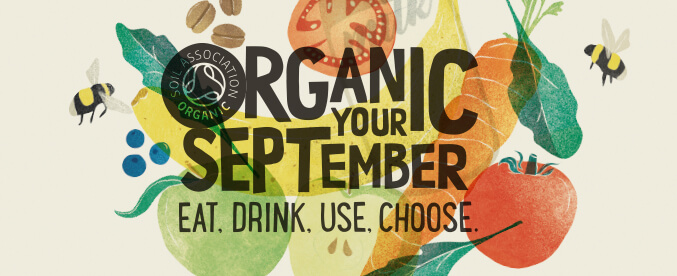 This month the Soil Association is launching the biggest ever Organic September, the UK's celebration of all things organic. With more people looking for healthy, ethical and local food, Organic September makes it even easier to eat and live well – with inspiring tips and recipes using good ingredients. Swapping to organic food has huge benefits for people, animal welfare and the environment, these swaps are small changes to our everyday shopping to help our planet. Last year I switched to organic eggs and organic milk, with our budget supermarkets offering organic dairy it's a great swap at a good price, and one we'd kept up with all year.
Soil Association have shared their 5 top tips for Organic September with me and I thought my lovely readers might like to get involved, why not try one of these this month?
1. Switch to organic milk. Organic milk is naturally different – no system of farming produces milk with higher levels of omega 3 fatty acids or a healthier balance of omega-6.
2. Eat less, but better, organic meat. Organic animals enjoy the very highest welfare standards of any farmed animals. They are fed a GM free diet and graze on organic pasture where pesticides are severely restricted.
3. Switch to organic beauty. There are currently no legal standards for organic beauty so some products may be labelled 'organic' even if it doesn't always stand true. Look for the Soil Association symbol to make sure that what you put on your body is as important as what goes in it.
4. Sign up for an organic veg box. Organic farms support 50% more wildlife than non-organic farms, so you're not just treating yourself to the best of British produce, you're also helping to protect bees, birds and butterflies.
5. Brew an organic tea or coffee. Organic tea and coffee is grown without the use of artificial pesticides and fertilisers. This not only reduces the farmers' exposure in the developing world, it also means healthier soils and more habitats for birds and wildlife.
Are you making a swap this Organic September, if so what are you trading?